TRUSTEE PROGRAM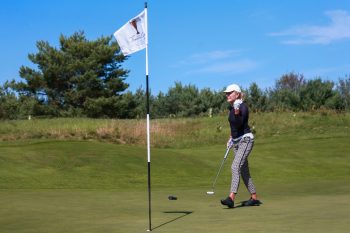 The Trustee Program is our flagship major donor program offered to supporters who want to invest in the developmental pathway for Canadian golf.
Trustees are inspiring the next generation of leaders by supporting both young players in grassroots programs and our most talented players who represent Canada on leaderboards around the world.
In addition to making a significant investment in the future of golf, Trustees get inside the ropes access to exclusive events as stakeholders in the future.
To join the Trustee program, Trustees pledge a multi-year agreement in the amount of $5,000 or more with benefits to commensurate with the contribution level. Terms and benefits of the agreements are negotiable.
Young Pro Program
Launched in 2014, the Young Pro Program's goal is to put top graduating Canadian amateurs on a performance path that replicates the success of major winners and transition them to a career in professional golf. It focuses on enhancing coaching and training experiences through the latest in sport science support, mental training, while providing financial security for golf expenses.
Grassroots Programs
First Tee – Canada is bringing First Tee's youth development emphasis to strengthen Golf Canada's junior golf activities that reach kids in communities, schools, and golf facilities. By integrating life skills curriculum with the game of golf, First Tee programs are creating active learning experiences that build inner strength, self-confidence and resilience. Donate today to help the Golf Canada Foundation – Canada's leading source for golf philanthropy in Canada – continue to support grassroots programs in communities all across Canada.
LEADERSHIP IN GOLF PHILANTHROPY
Established in 2017, the Golf Canada Foundation Legacy Award celebrates individuals who have made a significant impact on golf in Canada through their philanthropic efforts.
GORDON STOLLERY

2020 Legacy Award Recipient

An avid golfer and successful businessman in both real estate and energy sectors, Gordon Stollery made a significant impact on the game of golf through course development, professional championships, and philanthropy. Gordon built Angus Glen Golf Club into one of the most successful public facilities in the country, and its two courses hosted the Canadian Open in 2002 and 2005. Gordon also created Goodwood Golf Club, which has become of the most exclusive and highly-ranked clubs in Canada. Gordon's seven daughters continued the family legacy in golf and giving back to the community, having hosted the Pan American Games Championship in 2015 and multiple World Junior Girls Championships.

GORD NIXON

2019 Legacy Award Recipient

A truly transformative leader in golf as chief executive for RBC, Gord Nixon led the resurgence of the RBC Canadian Open and an unprecedented investment in the sport across North America. More than $20 million was donated to charity through the RBC Canadian Open as well as the RBC Heritage during his tenure. RBC's investment in the game helped drive growth in Golf Canada's National Team Program and was the catalyst for Team RBC—a roster of global ambassadors including Canadian and international stars on the PGA TOUR and LPGA Tour.

BRAD SHAW

2018 Legacy Award Recipient

As chief executive officer of Shaw Communications, Brad Shaw has used golf to inspire, entertain, and make a major impact on the city of Calgary and the province of Alberta. In 2013, Brad and the Shaw Family, along with Clay Riddell, founded the Shaw Charity Classic as a platform to give back to the Calgary community by bringing a world-class sporting event to the city. Since inception, the Shaw Charity Classic has raised over $48 million for over 200 children and youth-based charities in Alberta, and the tournament has received the prestigious President's Award as the top event on the PGA TOUR Champions three times.

CLAY RIDDELL

2018 Legacy Award Recipient

Mr. Riddell graduated from the University of Manitoba with a Bachelor of Science, Honors degree in Geology. In May 2004, he received an Honorary Doctor of Science degree from the University of Manitoba.He has been the Chairman of the Board and Chief Executive Officer of Paramount Resources Ltd., a publicly traded oil and gas company since 1974. He is also Chairman of the Board of Perpetual Energy Inc.

Mr. Riddell is past President of the Canadian Society of Petroleum Geologists and past Chair of the Canadian Association of Petroleum Producers. He is associated with several other profit and non-profit organizations. He has been a resident of Calgary for many years.

He currently owns stakes in at several publicly traded energy companies, with Paramount remaining one of his largest holdings. He is also an owner of the National Hockey League's Calgary Flames. In 2012, Riddell donated $15M to Carleton University in Ottawa, Canada for the Clayton H. Riddell Graduate program in Political Management that was launched in 2010.

JEAN C. MONTY

2017 Legacy Award Recipient

As BCE Chairman and CEO, Jean Monty was instrumental in transforming the Canadian Open into a bigger and more impactful event when Bell Canada served as title sponsor and supporting partner from 1994 through 2012, inspiring Canadians from coast to coast. It was also under Monty's leadership that the event became a true junior friendly event with children 17-and-under gaining free admission, a policy that continues to this day. Jean's generosity and passion for golf has made a significant impact on the sport from supporting grassroots junior programs to developing players on Team Canada, including the support of top amateur and professional players from Quebec through the Monty Cup.