FUNDRAISING EVENTS & INITIATIVES
Golf Canada Foundation runs several initiatives throughout the year in order to fund programs that support: junior golf development, Canadian collegiate golf, high performance golf, and women's golf. These events provide unique opportunities to support the game while enjoying a premium golf experience. Come join us at one of our fantastic events, enjoy a chat with Canada's industry leaders, play a round with PGA, LPGA and Team Canada players, and help us raise funds for the advancement of golf in Canada.
Trustee Cup
Each fall, donors gather to participate in the signature fundraising event, the Trustee Cup, an invitation-only golf, and fellowship experience exclusive to Foundation donors, where we honour and celebrate those who have made a significant impact through the game of golf in Canada.
For more information, please email us at foundation@golfcanada.ca.
MONDAY PRO-AM – RBC CANADIAN OPEN
Since 2012, Golf Canada Foundation has hosted the Canada Day Pro-Am on the Monday of the RBC Canadian Open. The objective of the Pro-Am is to create awareness and raise funds for Foundation initiatives, in particular for Team Canada and the Young Pro Program.
Guest foursomes are treated to round of golf with a professional PGA Tour golfer, Canadian sports hero or celebrity, pre-round golf clinic on the range and exciting surprise and delights throughout the day. Last year's Pro-Am featured Team RBC players Nick Taylor, David Hearn, and Adam Hadwin along with Canadian golf legend Mike Weir and hockey heros Nick Kypreos and Rick Vaive.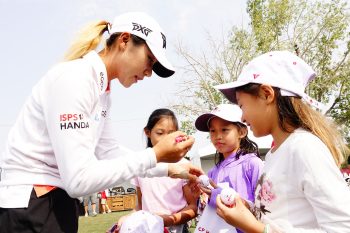 ALL-STAR CANADA DAY PRO-AM – CP WOMEN'S OPEN
As the kick off to the CP Women's Open, the All-Star Canada Day Pro-Am is an opportunity to join some of the best players in the world for an exciting day in perfect tournament conditions. Guest foursomes are paired with a pro from the LPGA tour on the Monday of tournament week. Last year, participants were treated to an all-star clinic hosted by Gail Graham, featuring Lydia Ko, Alena Sharp, Lori Kane, Morgan Pressel and several other top players from the LPGA Tour. Following the clinic guests will play 18 holes with one of the top Canadian players and finish the day with a fun evening of cocktails.
Play Like the Pros
Play Like the Pros is a Golf Canada Foundation annual signature fundraising event in support of junior golf programs. As a unique golf experience, Play Like the Pros allows you to play the RBC Canadian Open and CP Women's Open tournament courses the day after the tournament concludes; the same tees, pin positions, and tournament conditions just as the pros played! This is a chance to compare your drive to tournament champion's and test your skills against the best's of the bests on a championship PGA Tour course. Interested participants can fundraise as individuals or as foursomes.
The Swing
The Swing, presented by RBC, aims to get more women into and comfortable with the awesome game of golf. We do this by hosting an event that offers fun, non-competitive golf clinics, networking, food & drink and more. Bring your foursome, bring your sister, bring your neighbours! For all levels from "never picked up a club!" to expert.
Tickets include: participation in golf clinics, drinks & food, gift bag, complimentary Junior Clinic, and opportunity to watch the Opening Ceremonies for the World Junior Girls tournament & complimentary parking!
Three in total for you to participate in, total of 90 minutes (long game, short game and putting).

Awesome vendors, food and drinks.

The World Junior Girls Championship, entering it's sixth year will see 63 competitors from 21 countries compete for team and individual title honours. The championship was first introduced as a playing ground for the best female junior competitors in the world to come together and compete in a championship to test their skills against the world's best. Featuring some of the best international female junior golfers in the world, the World Junior Girls Championship is known as a 'must attend' championship for NCAA recruiters.

For more information please visit: http://www.worldjuniorgirls.com/

While our Swing participants (16 years old+ please) enjoy themselves, the younger golfers in your life are welcome to participate in a Golf Ontario Future Champions Golf Clinic – for FREE! Open to children ages 5-15, must be registered with a paying participant of The Swing. Maximum 2 children per participant. Children MUST be registered while purchasing your Swing ticket.
Jean C. Monty Cup and Hélène Desmarais Cups
2018 marked the inaugural year for the Jean C. Monty Cup and Hélène Desmarais Cup, an annual competition held at Memphrémagog Golf Club with the purpose of supporting top golfers in Québec. The exclusive event reflects the Monty and Desmarais' lifelong enthusiasm for the sport and their commitment to support the province's most promising young athletes.
The Jean C. Monty Cup (for men) and the Hélène Desmarais Cup (for women) features the top five pros and top five amateurs from the province paired together in two-person teams. Amateur players are selected from the Golf Canada Order of Merit, with priority for professionals given to Team Canada Young Pro Squad members from Québec. In addition to promoting camaraderie and competition among the athletes, each cup conducted in partnership with the Golf Canada Foundation, holds a purse of $40,000.